Kursaal Oostende - Entertainment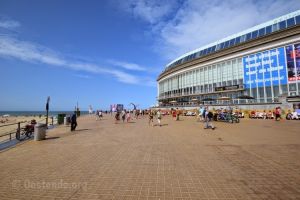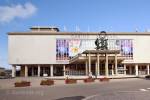 The fourth Kursaal (Casino) of Oostende is a highlight in the architecture of the 1950s. It is characterised by a modernistic design combined with neoclassical elements on the front façade. The architect Stijnen created an avant-garde building that was aimed at transparency and simplicity. Many changes were made to the original design. Fifty years later a thorough renovation by the firm of architects Storme-Van Ranst (starting in 2000) was aimed at realising Stijnen's original ideas.
Inside the building are wall paintings by Paul Delvaux, ceramics by Pierre Caille and frescoes by Marc Mendelsohn.
Furthermore Kursaal Oostende is near the following sights: City Museum Ostend (±500 m), Japanese Garden Shin Kai Tei (±650 m), Mu.Zee (±700 m), Three-master Mercator (±800 m) & Museum Ship Amandine (±900 m).
For information:
Oosthelling 12, Oostende
web.
Website