Boudewijn Seapark - Attraction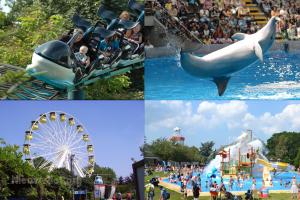 Experience a splash-filled day at Boudewijn Seapark in Sint-Michiels! This versatile park is both an amusement park and an animal park, where visitors can enjoy a range of water attractions, animal shows, and play areas​1​.
Boudewijn Seapark is renowned for its dolphin enclosure, where visitors have the opportunity to admire the elegant movements of the dolphins during special performances. But that's not all; the park also houses seals and sea lions, which can be observed during an educational presentation in the open-air theatre or at the outdoor seal lagoon.
For the adventurers, the park offers an array of attractions. There are 20 outdoor and 10 indoor attractions suitable for the whole family.
For a relaxing and entertaining day out, bring your family and friends to Boudewijn Seapark in Sint-Michiels and enjoy a mix of education, adventure, and nature!
For information:
Alfons De Baeckestraat 12, Brugge (Sint-Michiels)
web.
Website